Since our shipments may contain batteries and accumulators, we are obliged under the Batteries Act (Batteriegesetz - BattG) to inform you of the following:
Batteries and accumulators must not be disposed of in household waste. As an end user, you are legally obliged to return used batteries. Waste batteries may contain pollutants that, if stored or disposed of improperly, may harm the environment or your health. Batteries also contain important raw materials that can be recycled. You can return used batteries that we carry or have carried as new batteries in our assortment free of charge to our shipping warehouse (shipping address) or return them in the immediate vicinity (e. g. in shops or municipal collection points) free of charge.
The symbols shown on the batteries have the following meaning: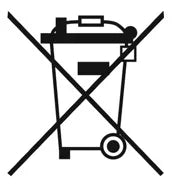 The symbol of the crossed-out garbage can means that the battery must not be placed in the household garbage.