The Großglockner, Austria's highest mountain, is not only one of the most famous landmarks of the Alpine Republic, but also one of the most popular peaks for international mountain sports enthusiasts. A challenge that is best mastered with experienced mountain guides. The Glockner can be climbed from two sides and from two provinces, so there is a mountain guide association with expertise for this adventure on both the Tyrolean and Carinthian sides. Since 2020, the mountain guides Kals (East Tyrol) and the mountain guides Heiligenblut (Carinthia) are equipped with gloves by Zanier, and contribute their alpine experience to the product development of our mountain sports gloves.
Großglockner Mountain Guide Associations with history
The mountain guide associations Kals and Heiligenblut are among the longest existing mountain guide associations in the Alps. In Kals, the era began in 1867 with the Prague merchant Johann Stüdl, who built the "Stüdlhütte" and opened up the "Stüdlgrat". He also founded the first mountain guide association in the Eastern Alps in Kals in 1869. Stüdl was therefore also called the "Glocknerherr". Kals became a centre of eastern alpinism and is still an important starting point for mountain tours to the Glockner, Schober and Granatspitz groups.
The Großglockner mountain guide association in Heiligenblut / Carinthia is also rich in tradition and stands for the solidarity with the Großglockner region. Since the beginning of alpinism, the mountain guide association Heiligenblut has been the starting point for international guests to the mountains of the Hohe Tauern and the Alps. On both sides, only state-certified mountain and ski guides, based in the mountains of the Grossglockner region, are members. Not only through education and local knowledge at the highest level, they offer mountain experience all year round. Also through traditional festivals, training for young and old and voluntary work to maintain the infrastructure in snowy exceptional situations, the "Glockner Mountain Guides" are valuable for the alpinism of Austria.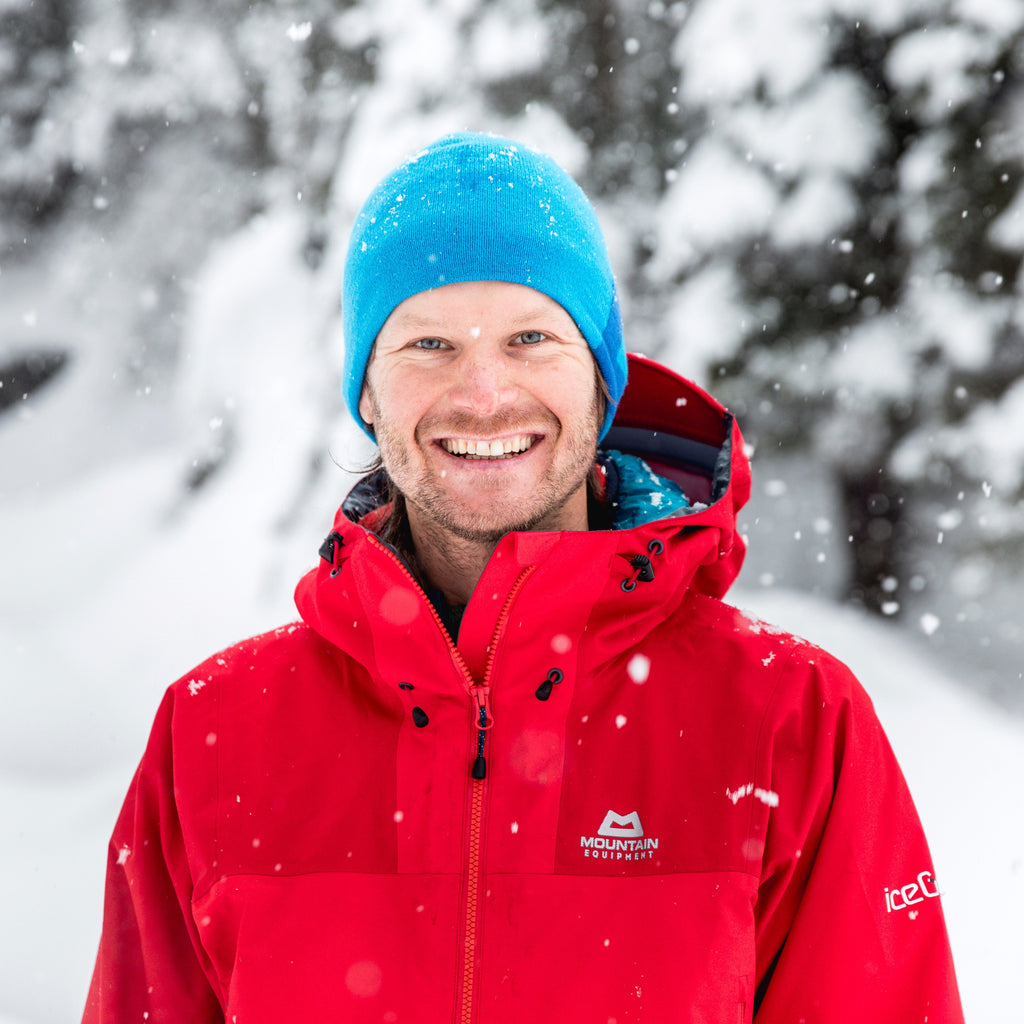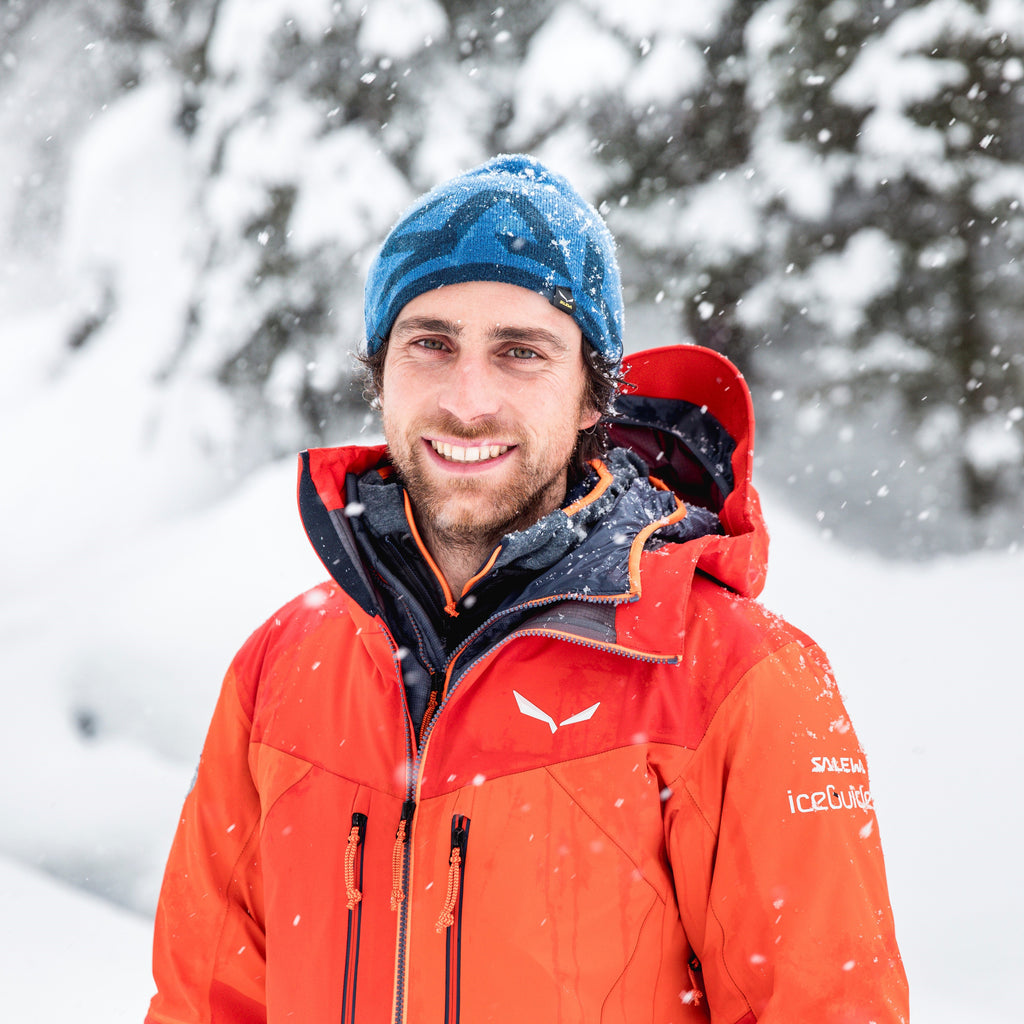 Photos: Ramona Walder
11 questions to Vittorio Messini & Matthias Wurzer
We talked to the two mountain guides from Kals, Vittorio Messini and Matthias Wurzer. Both are not only Glockner mountain guides in Kals, they are also among the Ice Guides in East Tyrol and the initiators of the Ice Park East Tyrol, the largest artificial climbing garden in Austria. The ice climbing festival also takes place here every year in January.
1. Honestly, how often have you been to the Großglockner and at what age for the first time?
Wurzer: Really often :-). The first time I was at the Großglockner I was 12 years old. Together with my brother and our neighbour Toni Rielpler over the Stüdlgrat.
Messini: Not as often as Matthias, but also often ;-). The first time at the age of 11 together with my father and the Heiligenbluter mountain guide Engelbert on the Hoffmannsweg.
2. What did you start with in your youth - climbing or mountaineering?
Wurzer: Mountaineering. Only later I started climbing.
Messini: First with hiking and via ferrata, then with mountaineering and ski touring, and later with climbing.
How to become a Glockner Mountain Guide?
3. How do you grow into this demanding profession, where endorphins and danger are so close together? Mental strength is certainly crucial. Do you learn this in your training, or is this mental strength a prerequisite for the training?
Wurzer: Mountaineering or this profession - this is my great passion. I knew at the age of 16 that I wanted to become a mountain and ski guide. Happiness and suffering are very close together on the mountain and are always omnipresent. You always have to be aware of that. I try to optimize factors that I can influence to counteract the danger. These include, for example: good physical fitness, always being up to date with the latest technology, learning from the mistakes of others, being on the road a lot to gain experience, etc. A sentence by Paul Preuss sums this up very well: "The ability is the measure of the permission!" Since 2017, I have been working as an instructor at the Austrian Mountain and Ski Guide Association. They try to prepare the young mountaineers as well as possible for everyday work. But everyone is not made for this profession.
4. You are also internationally on expeditions. Which alpine challenges and experiences are particularly etched in your memory?
Wurzer: Vitto and I have been to Canada 5 times for ice climbing in the Rocky Mountains. There we managed some very challenging routes. Patagonia 2010: I will never forget these 2 months. It was a very intense time and we managed to climb 3 great mountains. The Cerro Torre, Fiz Roy and Saint Exupery. At Fiz Roy we had to bivouac 2 times in the wall because of bad weather. Such experiences are simply remembered.
Messini: Besides our ice climbing trips in Canada, which taught us a lot, I also did some expeditions in the Himalayas and also in Patagonia, which had a great impact on my life as an alpinist.
5. Both of you are becoming known again and again through first ascents, you could already give a name to many climbing routes. What you can also claim - to have made a "first ascent" on the now highly frequented Großglockner. We would like to know how one comes to such a route as the "Südwandwächter" and how you fared.
Wurzer: After the first ascent of the "Südwandwächter", we spent the night at the "Stüdlhütte" and celebrated the ascent. First, we researched whether this line was really a first ascent, and then we thought about the name. The former hut host, Oberlohr Georg, showed us a winter photo of the Glockner taken from the "Lucknerhaus" parking lot. The snow-covered walls of the "Freiwandspitze" (a mountain in the foreground on the left side of the picture) reveal a grim-looking giant looking up at the Glockner. This picture and the hut host are so to speak the south wall guards. After a few beers, this was a great idea :-). That's how this name came about.
6. What does the training of a Großglockner mountain guide look like? And - do you need additional training as an ice climbing guide? What role does the IFMGA play in this?
Wurzer: In order to be on the road with guests in summer and winter as well as at home and abroad, you have to complete the training as a UIAA/IFMGA mountain and ski guide. This training entitles you to travel internationally with guests. No matter which activity. Whether ice climbing, rock climbing, ski touring freeriding or classic mountaineering (eg Glockner). You learn this craft in 108 training days spread over 3 years. If you have not completed this training, or if you have only completed some courses at various providers, and still lead people into the mountains for pay, this is grossly negligent and at the same time undeclared work. Therefore, my tip to people who have no experience and want to have a nice mountain experience: Take a professional. It is also not forbidden to ask the mountain guide for his/her ID.
7. Which alpine goals and challenges (climbing / route or mountain peak) are still on your bucket list?
Wurzer: That is a difficult question. Often you spontaneously see a great line and then immediately the thought arises - I want to go up there!
8. What must always be in your backpack that is not part of the basic equipment of a mountain guide?
Wurzer: A lighter in the first aid package and an extra multifunctional cloth.
The Ice Climbing Park and the Ice Climbing Festival in East Tyrol
9. Please tell us about the Icepark Osttirol and the Ice Climbing Festival from January 14 to 16, 2022, where we will be at the test centre with our ice climbing gloves and new mountaineering models from our Core Line. Has the ice park grown naturally, or is there help being provided here?
Wurzer: Of course, participants can still register for the festival. Our philosophy at the ice climbing festival is that not only registered participants can stay there. Everyone can attend the lecture by Simon Gietl on Friday and everyone can come to the ice park on Saturday and use the test centre or participate in the speed competition. We have together with you, Zanier, over 10 manufacturer companies in the area and man/woman can test a large selection of clothes or hardware products. This is unique among the festivals that are usually held!
In addition to the test centre, registered participants have an ice climbing workshop with UIAA/IFMGA mountain and ski guides. There are 2 different packages: Once the Short Cut and once the ALL IN.  
The water we need to freeze the ice lines is transported with a 200m long hose system (without electricity, only with back pressure, so totally self-sufficient). So, the word "artificial" refers only to the water transport. Everything else is natural :-) But the infrastructure we have created with the ice park is really unique in its form. There you can relatively safely take your first steps on the ice, preferably under the guidance of a mountain and ski guide!
10. Where else can you find spots for ice climbing here in the Alps?
Wurzer: Places to be: Pitztal/Austria, Maltatal/Austria, Gasteinertal/Austria, Cogne in Aosta Valley Italy, Kandasteg/Switzerland and Freissinières/Dophine in France.
11. What is the most dangerous thing about ice climbing?
Wurzer: The assessment of the ice. This needs a lot of experience. To be able to climb a frozen waterfall in alpine terrain, you should have all alpine skills. So, it really includes the entire alpine range. The approach often has to be done on skis or snowshoes. I. e. you also have to bring LVS equipment. The catchment area above the waterfall must be assessed for avalanche danger. Most of the time you are somewhere where there is no cell phone reception, so you should have a good backup plan and definitely have mountain rescue skills to help in case of emergency. But all this can be learned step by step. You should not rush anything. We (Vitto, me and 4 other colleagues) have opened our own ice climbing school, where we offer workshops for all levels. (iceguides.at)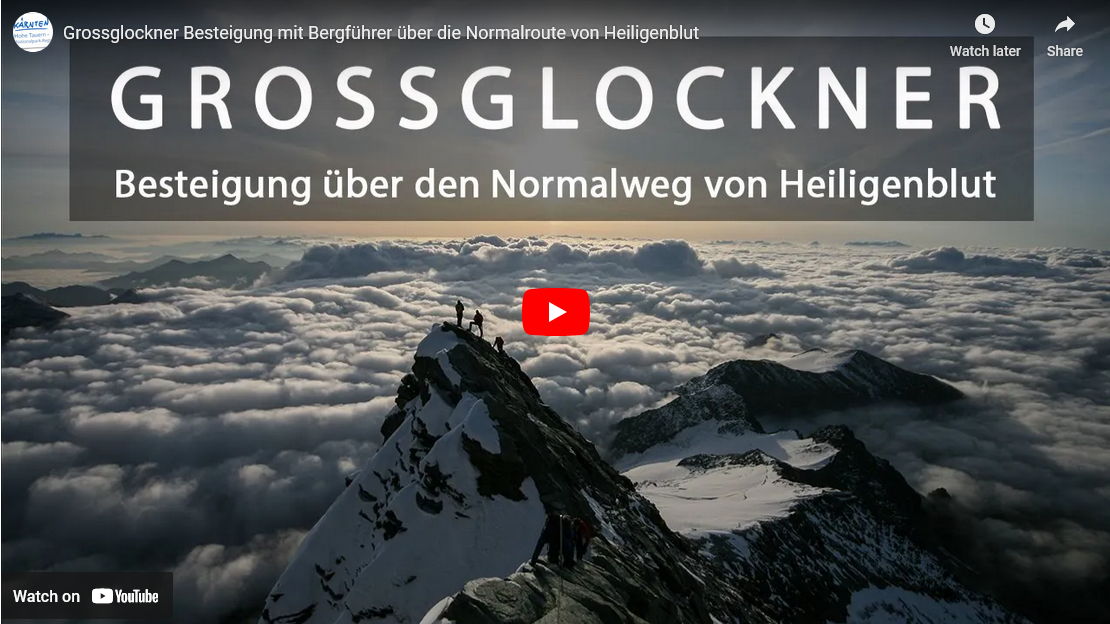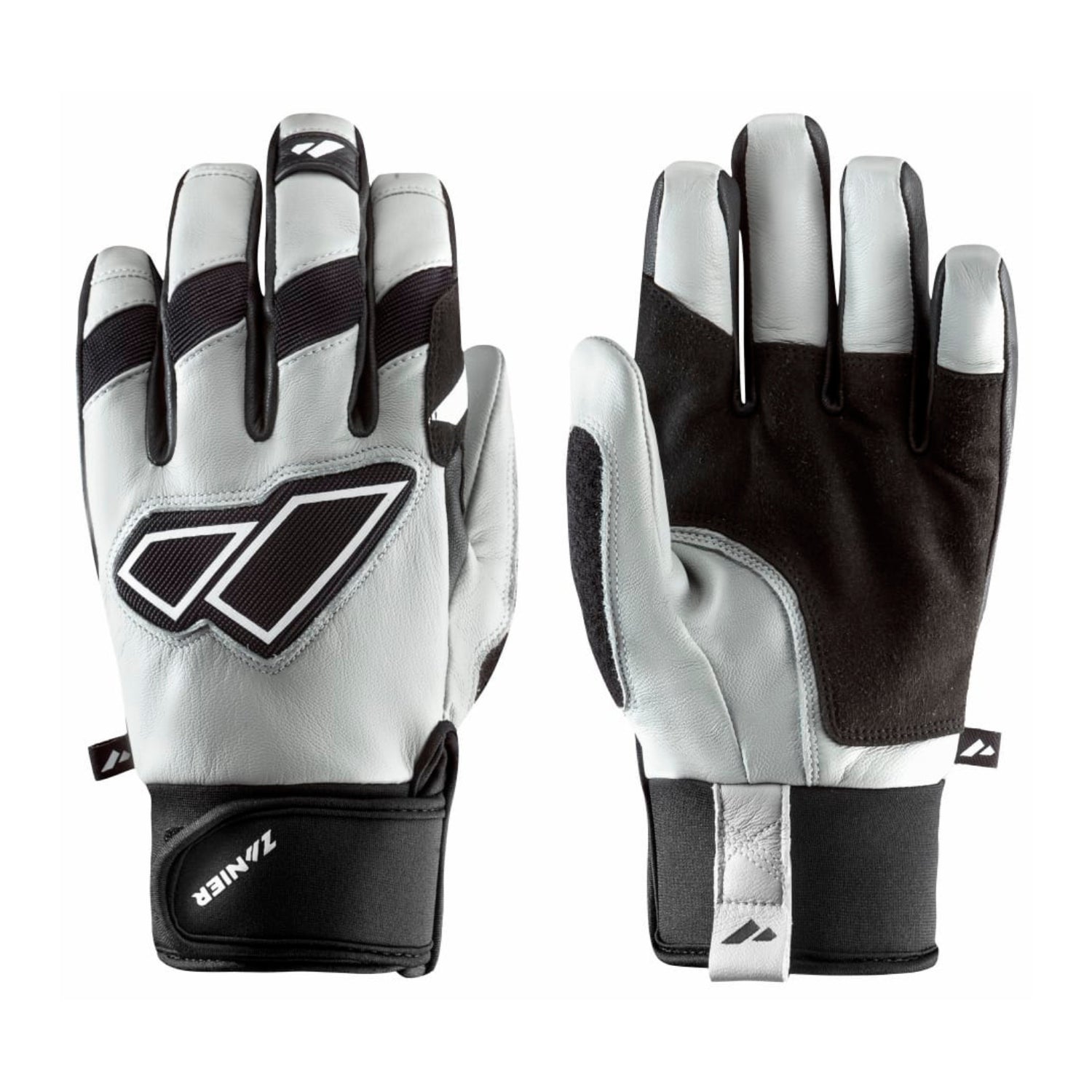 MYMOUNTAINPASSION GLOVE
Multi-sport model MYMOUNTAINPASSION for high activity level protects on via ferrata as well as on the bike or on ski tours. The ergonomic cut made of robust goatskin is combined with smart, flexible inserts made of 4-way-stretch and a neoprene cuff to create an essential all-season glove.
buy now!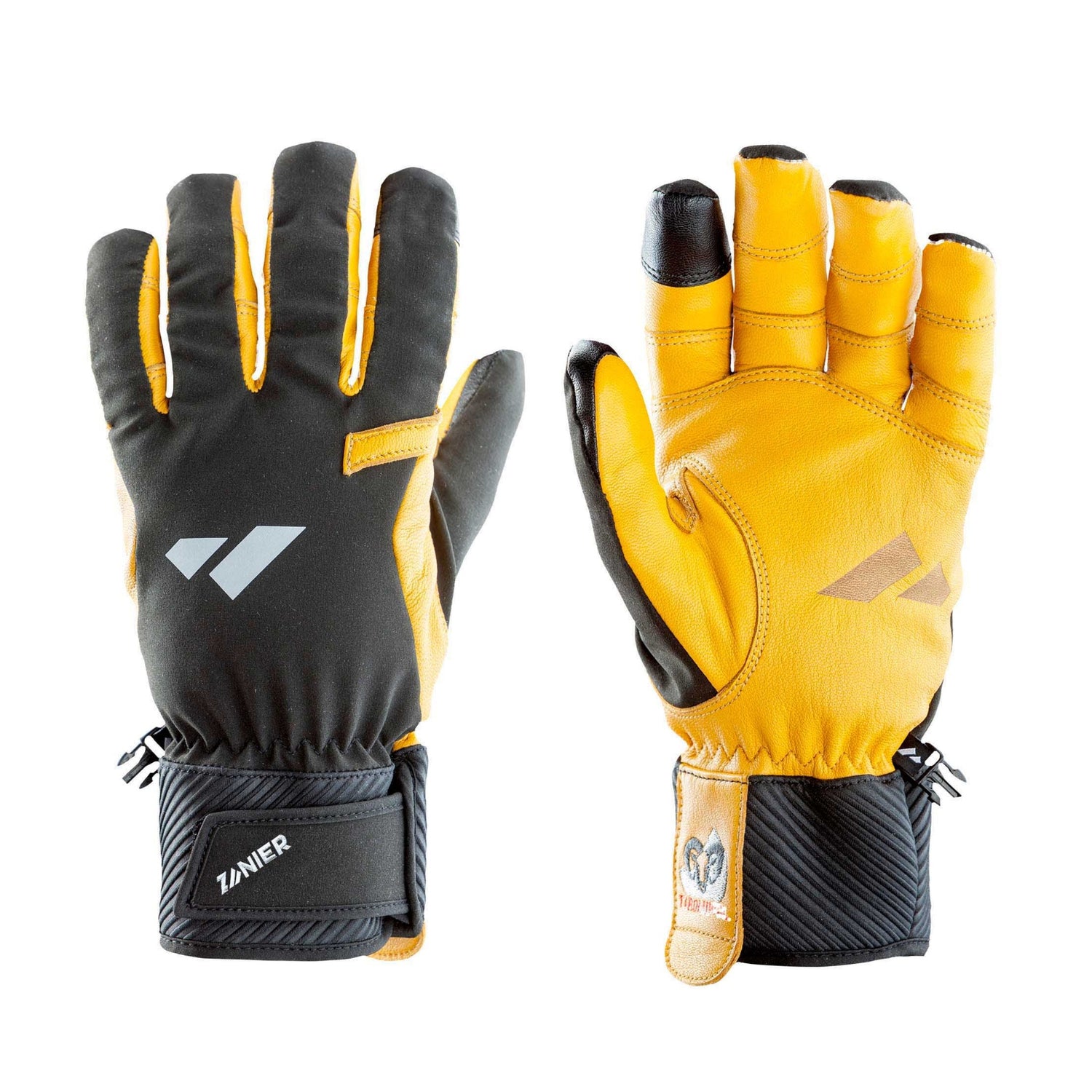 LASERZ.TW
A multifunctional, high-class mountain sports model. The natural
insulation made of TIROLWOOL® is not only sustainable, but also
temperature regulating. 4-way-stretch material FLEX, high-quality
goatskin and neoprene guarantee stability and comfort in any situation.
buy now!