Mountain biking is definitely something for adventurous people, this sport is not completely harmless. We have collected tips for more safety and fun on the bike from our talents and partners and summarized them here for you. So, you may not come clean, but at least safer over the trail into the valley. ;-)
Material check first!
Defective material can lead to serious consequences when mountain biking - so: check brakes, suspension, gears, spokes, tires & air pressure before hitting the trails! In addition, you should regularly check your bike for rusty or loose screws. Ideally, you should have your bike checked by a professional once or twice a year.
Position, brakes & co: The right driving technique
What is the right position? How do I shift my weight and how do I brake correctly? Basically, the rider stands on the bike with slightly bent arms and legs. The body's center of gravity is on the bottom bracket, and the weight is evenly distributed on the pedals. Always important: body tension!
When braking: "Just use the brake lever with your index finger, because the middle finger is our strongest finger and makes sure we can hold on to the handlebars well." says bike & motorcross guide Andi from Area 47. "Since the braking effect on the front brake is simply better, you should use it 70%, the rear brake 30%. However, this should be done with caution, especially when braking hard." Braking on wet surfaces, such as roots, wood or stones, should always be avoided.
Extremely important: Predictive driving! If you recognize obstacles early enough, you can react to them in time. In case of uncertainty, it is necessary to descend and identify the appropriate line. Attention: When descending, make sure to clear your way so as not to collide with other mountain bikers!
The right protective clothing
Helmet, protectors, goggles and MTB gloves are essential. And the rule is: the more colourful the better! This not only looks casual, but also makes you visible - and that is particularly important on the trails. Be sure to try on the helmet before buying, because only if the helmet fits, the protection also fits. Protectors for knees, elbows, back and neck should also be part of the protective equipment, especially when mountain biking is more off-road. Goggles protect you from branches & dust during the descent and therefore also from injuries.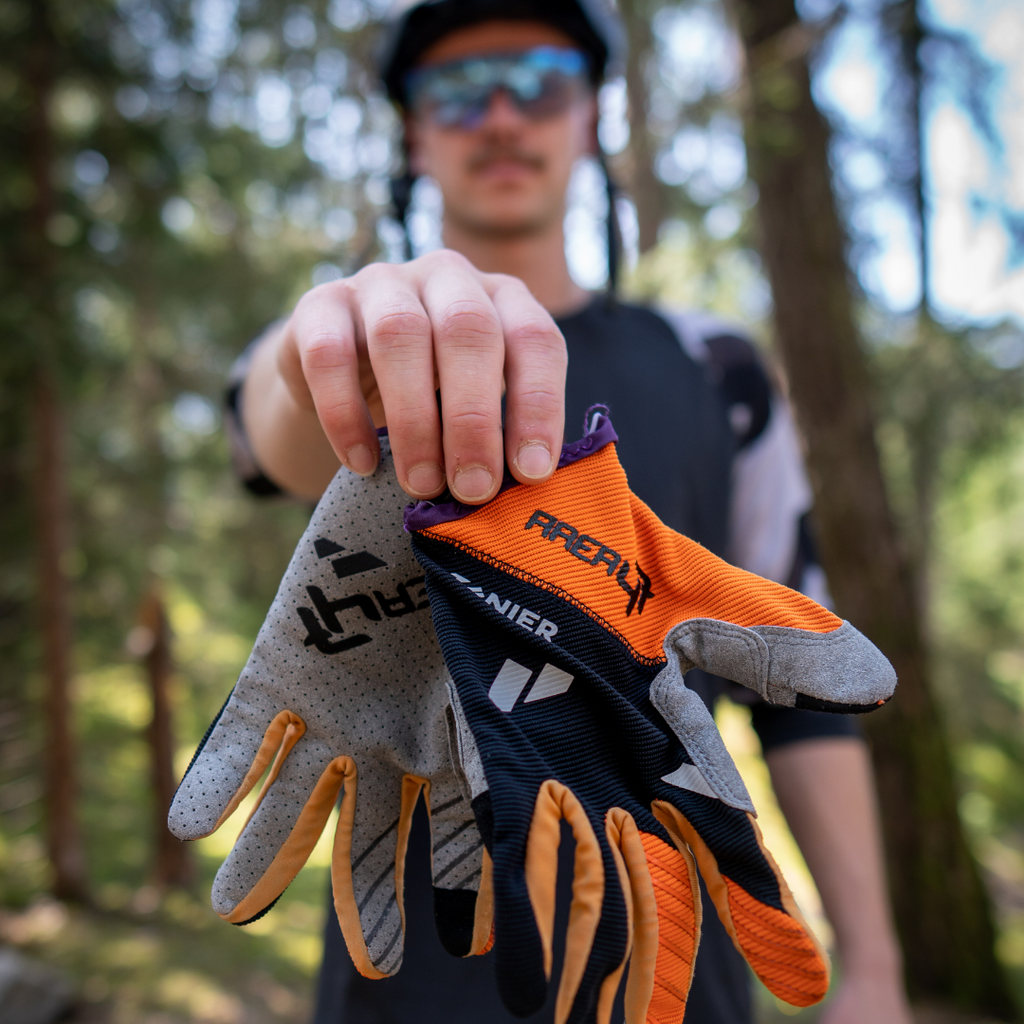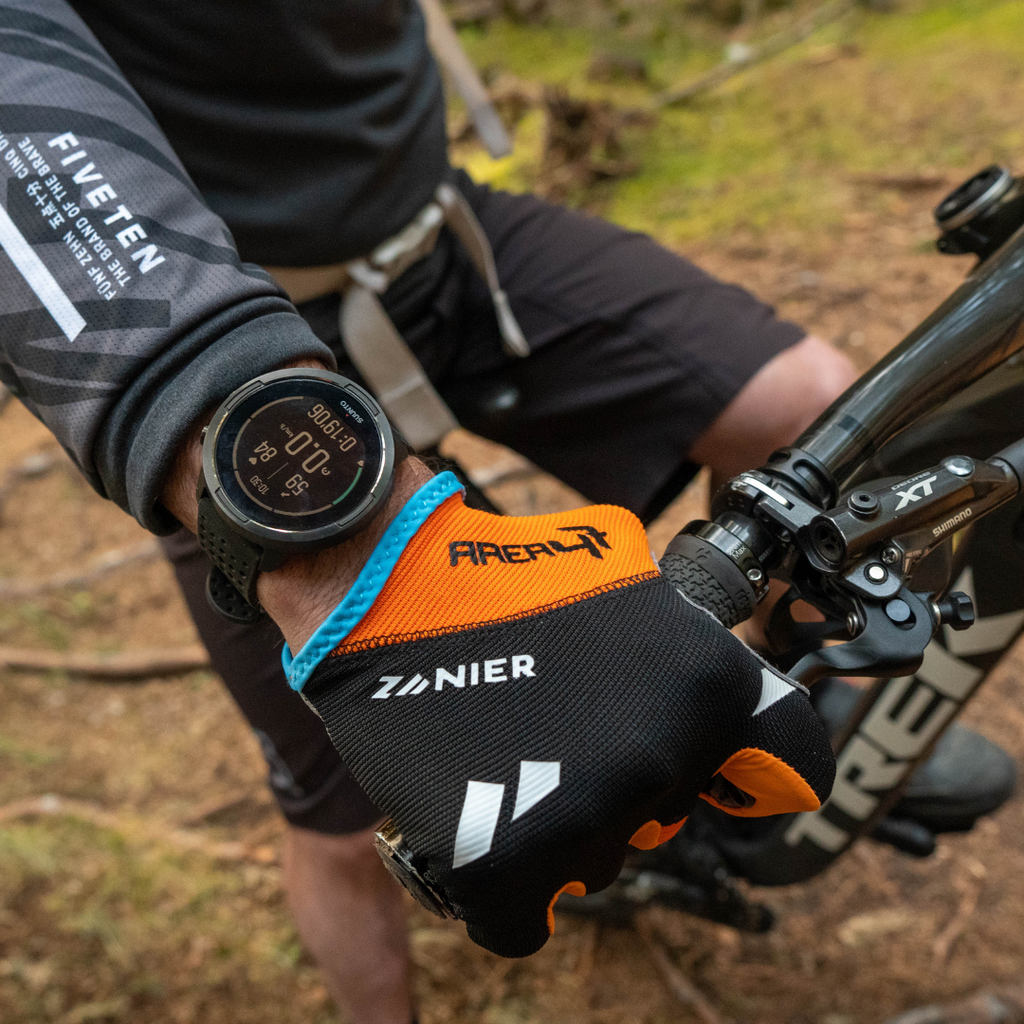 The right gloves are also among the must-haves for every descent. In addition to comfort, gloves provide the necessary protection when mountain biking. "The very worst thing that can happen to you while biking is, of course, if you slip off the handlebars - and that happens pretty quickly without gloves! Gloves with appropriate grip are therefore particularly important!", says Andi. "In the event of a fall, or if bushes / branches look into the roadway while riding, gloves also protect against abrasions."
To guarantee the best quality and function of our MTB gloves, we count on close cooperation with professionals in product development - after all, they know best what really matters. Bike young star Gabriel Wibmer gave us valuable input, and is thrilled with the outcome: "For me, handlebar control and comfort are the most important. Model Shredder and the Gabriel Wibmer Signature Glove fit perfectly. There are no friction points, they fit the hand perfectly. You don't actually notice that you have gloves on, that's the best thing for me. The gloves are an all-rounder, I use them for motocross, downhill or even trial bike riding. With my signature glove and the Shredder, you are optimally equipped for all sports where you need a good grip on the handlebars!", says Gabriel.
Photocredits: Martin Lugger (Header) | Area47 | Totschnig Flo