Mountain sports – always a masculine terrain. Currently, the proportion of women among mountain guides is limited to just over 2 percent. The good news: the percentage is rising!
Permanent exhibition on the history of women's mountaineering
In the visitor centre on the Kaiser-Franz-Josefs-Höhe, everything revolves around the history of women's mountaineering. The permanent exhibition presents female alpine pioneers - but they clearly had more than just gravity to overcome. Who was behind the female mountaineers and what social obstacles and prejudices did they have to contend with?
Mountaineering and prosperity used to be directly connected
The history of women's mountaineering on the Grossglockner is mainly characterized by socially privileged women, mostly from abroad, as they had the necessary means to pursue their passion. It was particularly important to write down their experiences on the mountain and preserve them for posterity. In 1869, the first woman succeeded in reaching the summit - however, the records do not exactly indicate whether it was the English alpinist Mary Whitehead or Anna von Frey from Salzburg. However, the exhibition is not only dedicated to these two women, but to all those who have climbed Austria's highest mountain since then.
Although the local female peasants, smugglers, messengers or alpine dairymaids were also active on the mountain, little can be said about them. Their being and doing was taken for granted and due to the lack of written records, they ultimately remain unknown. In the tourist book of Kals, however, several entries of previously unknown local female mountaineers were found. The book, dedicated in 1863 by Josef Stüdl, is a particularly valuable source and a jewel of the collection.
"This exhibition is certainly only an intermediate step. We will only have reached our goal when it is no longer even worth mentioning that women also make such an alpine achievement. I think we're already on a very good path, but there's still a lot to do." - says Wildfried Haslhauer, Governor of Salzburg.
Lizzy Fürstaller, one of 35 female mountain guides in Austria, says:
1. How do you train yourself mentally? Surely you often face difficult situations on the mountain. In addition, you have a lot of responsibility?
"When I'm climbing privately, and not with work, the mental demands are somewhat shifted. The desire of how to reach the goal - or not reach it - is then structured quite differently.
Mentally, I'm quite well disposed. When I want something, I always start with something like dealing with the facts: Do I know what's coming for me? Can I do whatever it takes to get the situation under control? How far can I go and what are my reserves in case Plan A doesn't work, etc.?
The condition of the day is also very important for me. If this doesn't fit, then you have a partner to whom you can say, "You go ahead...", or you actually break off. Regardless, it's the very personal success that makes you stronger, even more motivated, and gives you confidence/self-esteem. If I fail, that's okay at that moment. However, I have to work through the failure. Then for me it's practice, practice, practice: become brave, be brave.
When you're working, you don't want to take any risks. Because nothing is as precious as a day that you can end in a good mood in the evening.
At the end of the day, you just have to do and trust in what you have decided to do, as mentioned above. I then trust in myself. Become calm and level-headed in myself."
2. Do you spend a lot of time in the mountains yourself, or do you take a break from mountaineering on your days off? What do you do in your free time?
"I love to be out on myself in my free time. Whether climbing, ski touring, ice climbing or mountaineering, and I really need to be alone. I've been an outdoor person all my life. There is no other way?.
Due to the work, however, there is little time for free time, as almost every mountain discipline is now practiced as long as possible. Ski tours are made from the first 10 cm of fresh snow in October until July. Climbing is done all year round anyway and apparently there are no limits to mountaineering anymore.
In my free time, I'm primarily with my daughter and secondarily with myself?."
3. Which was your highest mountain? Or your highlight? It doesn't always have to be the highest.
"My highest was Mount Blanc. My highlight: I can't say, because they are always completely individual experiences. Often just moments, moments that leave lasting impressions."
4. How many times have you been to the Glockner now? Can you still enjoy it the same as the first time?
"On the Glockner I have been incredibly often, how many times - no idea. And yes, I enjoy and experience the mountain in a new and different way every time. It's a great mountain with a lot of history, with even more stories and faces."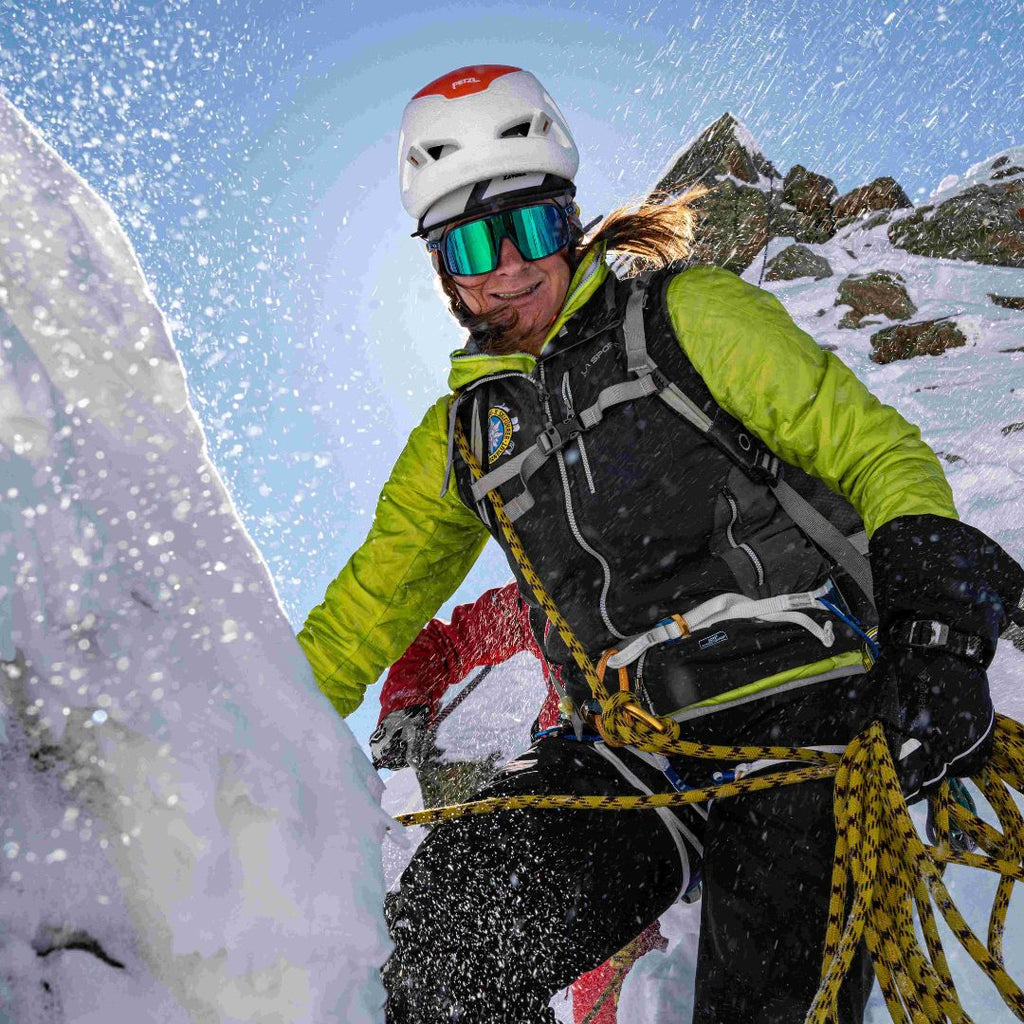 5. What should never be missing on your tour on the mountain?
"When I'm on the mountain, I always have a down jacket, first aid, something to drink, my sunglasses, sunscreen, a snack and, depending on the weather and season, (spare) gloves. And of course the phone - that's part of first aid."
6. How do your guests react when they meet a female mountain guide? Have you had any bad experiences?
"They are happy and so am I :). Guests are now much more open about the skill and funnily enough the sheer power of a woman. They often know what it takes to become a mountain guide. They also know that a woman, in order to be able to fulfill this profession at all, can and had to step on the gas properly. Precisely because a woman is built differently, has different physical requirements than a man. Even the psyche is different. Nevertheless, both can do the same. I have never had a bad experience in this regard, rather a funny one."
7. Do you have any idea why there are so few female mountain guides?
"That's the big evolutionary question: it's always been much more natural for men to do what men have to do.
It takes a lot of time, personal commitment, always partners with whom you are a good match and a fair amount of passion and self-confidence to get there.
All in all, you could say that it takes about eight years to become a mountain guide. You have to make tours on your own to fulfill the tour report. Then it takes another three years for the training itself. To do this, you simply have to enjoy being in the mountains yourself, from climbing to ice climbing, skiing, ski touring, mountaineering, etc., and at some point decide to do the training.
Recently I read a nice aside: "And the woman will tell the man what it is". And this is becoming more and more in a pleasant and mutually natural way in mountain sports."
Photos: Berg im Bild