Winter is a very special time, especially for the little ones: snowball fights & snowman building, sledding and the first meters on skis. In the cold season, however, especially the smallest ones need reliable weather protection. Babies and toddlers cannot yet regulate their temperature balance themselves, so they cool down much faster than adults. As glove experts since 1969, we give you tips for buying gloves for children:
Gloves for babies & toddlers
Dressing babies and toddlers as thickly as possible in winter is very tempting, but at the same time a common mistake. Too much or too thick clothing can turn into the opposite and lead to overheating - especially if toddlers are still in the fur or down bag in the stroller. The solution: the tried-and-tested onion principle!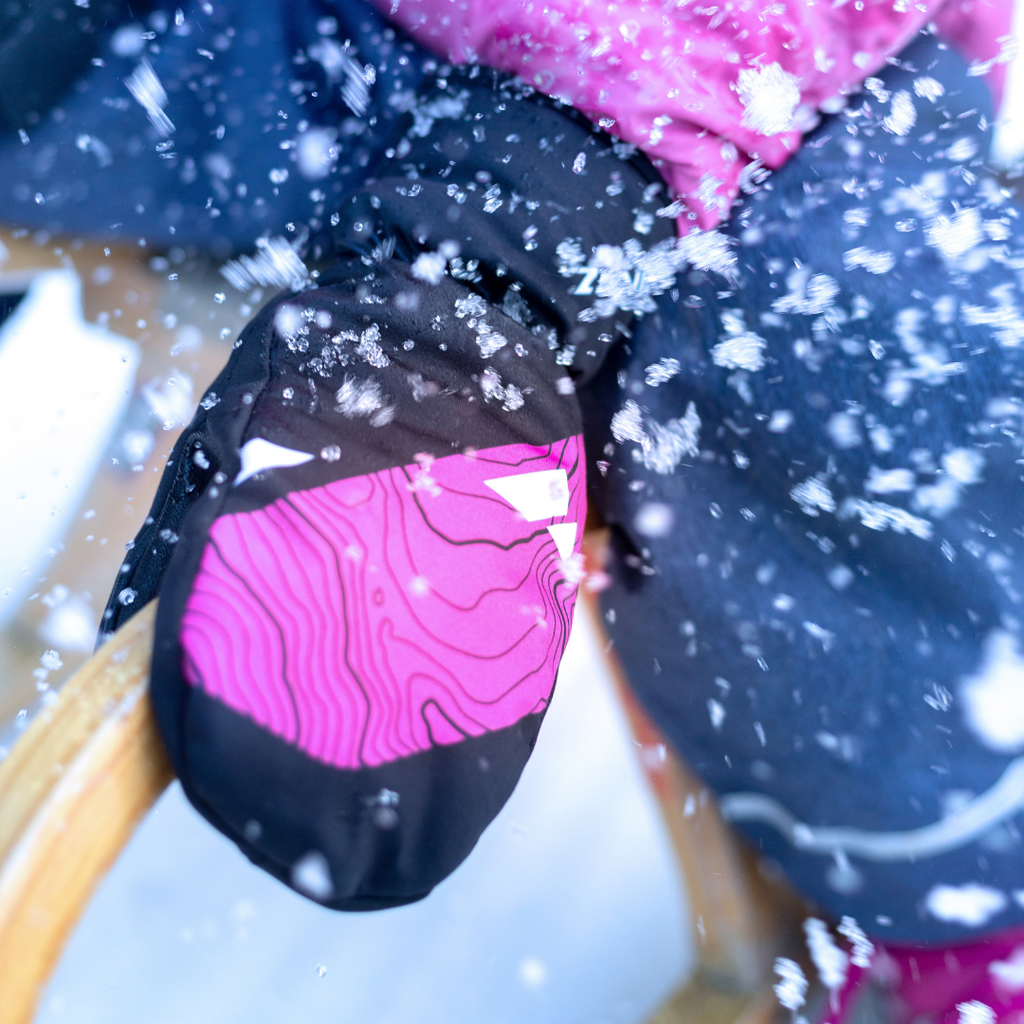 The hands belong to those parts of the body that cool down most quickly and therefore need special protection. Whereas scarves, hats & socks are usually put on quickly and do their job well, gloves are not always met with enthusiasm by many children. This makes it all the more important that they fit the child properly, do not slip, keep warm offer sufficient freedom of movement for playing and romping around.
Mitten or finger glove for children?
There is no general answer to this question; both variants have their advantages. Helpful decision-making criteria include the age of the child, activity level and cold sensitivity. In general, mittens keep the child particularly warm, as hardly any body heat is lost - the fingers warm each other. In addition, putting them on - especially for the little ones - is much easier. Mittens are therefore ideal for babies who are not yet able to grasp specifically anyway and are mainly pushed comfortably in the stroller through the winter landscape. Mittens are also the right choice for low activity levels, such as on the way to school or during a walk, on particularly cold days or for children who generally freeze quickly.
In finger gloves, hands & fingertips cool down a little faster, but are ideal for high activity levels and score points for optimal freedom of movement. Finger gloves are especially preferred by older children for skiing, building snowmen and forming snowballs. For toddlers, putting them on usually takes a little longer, but then the kids can move much better!
Closure solutions especially for children (and parents ;-))
Whether it's a mitten or a finger glove: a sufficiently long shaft that extends beyond the wrist prevents the jacket sleeves from slipping up and snow from penetrating. Our tip: extra-long zippers that make it easy to put on & take off. We also use Velcro drawstrings or Velcro fasteners for children's gloves to ensure optimal grip.
The optimal materials for children's gloves
In addition to the shape, the glove-material is also an important criterion. Gloves with a membrane - Gore Tex or Sympatex - reliably keep you dry when playing in the snow, skiing or tobogganing.
For particularly cold winter days or high sensitivity to cold, we recommend gloves with Primaloft Gold, which convince with an ultimate warmth/weight ratio, or the use of Heat-Pads. If required, the small, natural heating pads can be packed into the special Heat Pads pockets on the back of the hands, which keep hands comfortably warm for up to eight hours. Also cuddly and warm: in selected models, soft, cuddly fleece lining provides extra warmth. For the very little ones, mittens made of soft fleece are especially comfortable, do not scratch and are particularly easy to clean.
Tip: When buying gloves, always make sure that the palm is made of robust material. When children play in the snow, this must be particularly resistant.
Gloves must fit!
Gloves must fit to be fully functional. So: Buy neither too big nor too small! The gloves should not be too tight and provide sufficient freedom of movement. This allows a warming air cushion to form inside the glove. Our rule of thumb: approximately one finger width of air at the longest finger - then the glove fits perfectly! If the air space is too large, the fingers will get cold faster, because the body needs more energy to warm up this air space. Our size calculator helps to find the perfect size easily.
A look that's fun to wear!
Of course, children must like the gloves, and we have known how to do that since 1969. Funny designs or sequin embroideries that change when wiping over them definitely make the kids enthusiastic!
In the youth segment, we orientate our design to adult models and combine them with youthful prints and colours. Our racing model "Gate-Killer" for ski and snowboard is also very popular with young people.
Important: The child must feel comfortable in the gloves and be able to move safely according to the activity. With our highly functional, colourful gloves with special features and fun motifs, the little adventurers are well protected in the cold season!