Since 2018, downhill and street trail rookie Gabriel Wibmer has been part of the Zanier athlete team, the extended #zanierfamily. With the young talent from East Tyrol we are connected by common roots, after all, the Zanier brand was also at home in the district of Lienz for almost 50 years - and of course #mymountainpassion. Already in the past years Gabriel provided valuable input to the product development of highly functional gloves for the mountain bike, downhill & enduro segment. This cooperation now culminates in the Gabriel Wibmer Signature Glove, a glove entirely in the design of Gabriel Wibmer.
Tell us about your glove design process and what's important to you when it comes to gloves?
Gabriel: "My favorite Zanier MTB-glove is the Shredder - a model that I've been working on for the last few years in product development and just always wear when biking. When Zanier approached me with the possibility of a signature model it was clear to me that it had to be the Shredder. It is my favorite glove with all the features I need. Markus Zanier and I decided that we would take this model and I would put my personal design over it. I had a completely free hand in the design and now I'm really proud of the style of the Gabriel Wibmer Signature Glove."
How did the stylish color choice come up, Gabriel?
Gabriel: "White is always super cool for me, but a pure white glove would have been too basic for me. In 2021, this sandy, golden ochre became my signature color. The color can be found in my bikes and is also used in my helmet design. With this color I wanted to give the glove a subtle look, the combi can be seen. With my signature on the upper and lower hand in silicone print, the glove becomes a real signature glove."
What are the most important characteristics that a glove must fulfill?
Gabriel: "For me, handlebar control and comfort are the most important things. The Shredder model and the Signature Glove fit perfectly. There are no friction points, they fit perfectly to the hand. You don't really notice that you're wearing gloves, that's the best thing for me. What's really practical for me is the touchscreen function. Especially when filming my videos, it's really helpful that I don't have to take my gloves off all the time to use my mobile phone."
Are there actually different requirements for gloves in your sports Downhill, UrbanTrial and also Motocross?
Gabriel: "The gloves are an all-rounder, I use them for motocross, downhill or trial biking. With my signature glove and the shredder, you are optimally equipped for all sports where you need a good grip on the handlebars."
How do you spend your time? How many hours do you actually spend on the bike / training?
Gabriel: "I'm really on the bike at least 2 hours a day, so now besides school. Of course, biking itself is only a fraction of my entire training program.

I really enjoy combining biking with content creation - producing, editing and cutting photos and videos. That also takes a really long time. It's great at the end of the day to see what you've created, something you can show off, share - that's become my passion. I want to push that in the future, because I'll have more time to do it after I graduate from high school."
The drop of the Gabriel Wibmer Signature Glove is at the Crankworx 21 in Innsbruck. In which disciplines will you be there?
Gabriel: "I'm happy that the drop of my personal glove to the Crankworx 2021 in Innsbruck works and I'm taking part in the Whip Offs and Downhill. I'm currently training here in Leogang for the first World Cup. I'm also studying for my final Matura (Abi) exam. I'm good at training and I'm looking forward to the competitions."
What do you actually plan to do when your Matura is finished? Will your career and training schedule change?
Gabriel: "At first I thought about studying. But I doubt that I'll be able to fit it in. I want to consciously use the next few years for my professional career and as a content creator to increase my professionalism. When I do something, I want to do it right. After that, all doors are still open for me to study."
What are your next big goals?
Gabriel: "Of course, the Downhill World Cup and also the Crankworx in Innsbruck come first. I'm now riding in the elite class for the first year - a challenge. Parallel projects such as video productions are on the agenda, and dates can overlap. We will consciously weigh up where we set the priorities."
You started your career very early, how did your sports career develop?
Gabriel: "Playing soccer at my home at an altitude of 1000m isn't really fun - because you have to keep fetching the ball as it rolls 300m down the slope. In the past, I wasn't mobile either without a driver's license, so my home was my playground. We just started doing trials, building kickers and jumps. We have a wall where my cousin Fabio and I still train together when he's home.
Besides downhill, you also ride motocross, street bikes and urban trials. What do you like to do most and how does it all fit together?
Gabriel: "I started with motocross at a very early age. Later, due to a lack of training opportunities, I switched to motorcycle trials. When I was 12, I experienced the European Downhill Cup and knew that this is what I wanted to do. I'm not the type to do just one thing. On the downhill bike I forget everything around me, this is where my focus is. Motocross is still fun for me. For me, this sport is a fitting balance to get down, just like street bike and urban trail."
In general, your family must play an important role in your career, after all, it started when you were a child.
Gabriel: "My father is a sports fanatic and a trained fitness trainer. He has always supported and motivated me. We cover many thousands of kilometres together. In general, the whole family – my parents and my sisters – is behind me. Of course, my mother was also worried about injuries, but athletic ambition and certainly talent are part of it."
Gabriel Wibmer Career Highlights
In 2016 he was crowned unofficial world champion in his age group in the U15 category at the iXS International Rookie Championships
3rd place at the U17 iXS European Downhill Cup 2017
1st place at the U17 Crankworx IBK 2017
Austrian National Champion U17 Downhill 2018
1st place at the Glemmride Bike Festival Open Junior U19 2019
10th place Youth World Cup Leogang 2020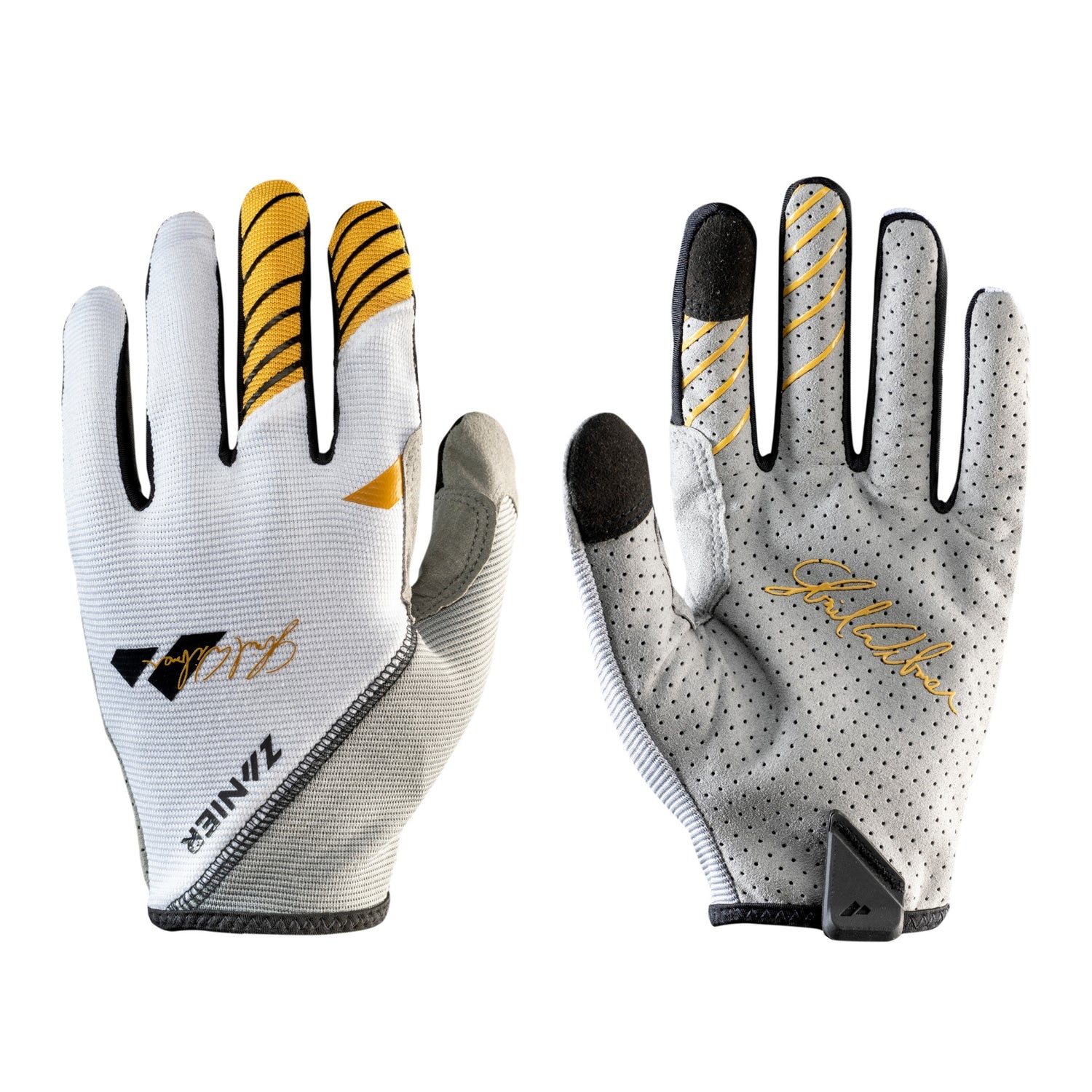 Gabriel Wibmer Signature Glove
Palm in special perforated Amara with silicone print, 4-way stretch material and elastic wrist for comfort, touchscreen compatible. Gabriel's personal, very casual design: His signature color combined with white and black, his signature on backhand and palm in silicone print.
buy now